The CARBAFIN technology offers a broad spectrum of applications. Quite recently, the team of Graz University of Technology was successful in applying two of the CARBAFIN enzymes, cellobiose phosphorylase and cellodextrin phosphorylase for the bottom-up synthesis of reducing end thiol-labeled cellulose material in a cascade reaction. This is important for a controlled assembly of functional nano-composites and promotes applications for example in electrochemistry, biosensing, catalysis or medicine.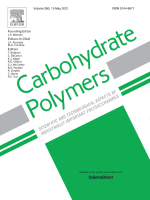 The original article was published in open access journal "Carbohydrate Polymers".
Zhong C, Zajki-Zechmeister K, Nidetzky B: Reducing end thiol-modified nanocellulose: Bottom-up enzymatic synthesis and use for templated assembly of silver nanoparticles into biocidal composite material. 2021, Carbohydrate Polymers, Vol 260.